Sulphuric Anodise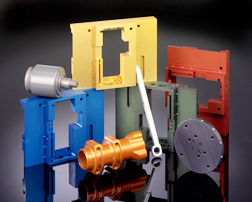 Anodic oxidation is very widely used for the treatment of aluminium and aluminium alloys. Anodising provides an attractive decorative and protective finish for a wide variety of aluminium components, In the anodising process a thin invisible film of aluminium oxide forms naturally on the surface and provides some degree of corrosion protection for the underlying aluminium. Depending upon the initial surface condition, and alloy composition, a matt effect will be obtained. This is known as clear, natural anodising. This anodic film may also be dyed to give a wide range of attractive colour finishes, i.e. Gold, Gold Orange, Red, Blue or Black.
Sulphuric Hard Anodise
Although the normal anodic oxidation process is fairly hard, and wear resistant, by subtle adjustment of the anodising conditions, harder and thicker films can be produced for engineering applications. Most Hard Anodising is self-coloured, dependent upon the alloy being used, but can be supplied in colours. The major applications for Hard Anodising are for aircraft and general engineering uses. The high resistivity of the hard anodic film means that electrical components can be effectively insulated.